Streit's Cappuccino Truffles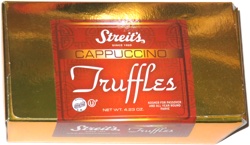 Taste: This box contained a gold foil bag filled with 13 dome-shaped truffles (one more piece than the dozen listed in the Nutrition Facts). When I grabbed my first piece, I noticed that the exteriors were powdery, leaving a bunch of chocolate dust on my fingertips. I'm not a coffee drinker, but I do usually enjoy the taste when it's in snack form. I bit in to find a dense feel and a whole lot more chocolate to taste than coffee. There might have been a hint of coffee, but barely. Anyway, pretty good.
Shop: Buy snacks at Amazon.com
Aroma: Very mild, jus a hint of chocolate and coffee.