16 Candles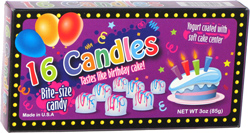 Taste: We've reviewed many thousands of snacks over the years, but this was the first one we could find that was named after a Molly Ringwald movie. The box contained a clear bag that held a few dozen roundish but irregularly shaped pieces with smooth white surfaces. We bit in to find that they were very soft and really did taste a lot like birthday cake. But the sweetness level was very high, so these weren't all that popular among our snackers. The search begins now for snacks named "The Breakfast Club" and "Pretty in Pink" ... was she in any other movies?
Shop: Buy snacks at Amazon.com
Aroma: Smells like birthday cake.
From the package
"Bite-size candy" ... "Tastes like birthday cake!" ... "Yogurt coated with soft cake center"
Share your comments on this snack here. For general snack discussion, please visit our Chip Talk forum