Reese's Milk Chocolate & Peanut Butter Football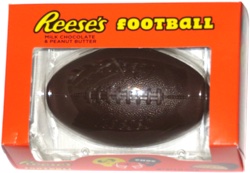 Taste: This football-shaped Reese's wasn't the largest Reese's product ever, but at 8 ounces, it did match the size of each of the two cups in the giant Reese's cups. (Don't confuse it with the bag of much smaller footballs or the football-themed regular-size cups.) I opened the box, which carefully protected the football with plastic, to find that it was actually just half a football, but it had very nice details, with a pigskin texture and stitches, plus a Reese's logo. It looked really good, with no imperfections or scuff marks, like something you would see in a fancy candy store.
That's why I was kind of surprised that when I picked it up to take a bite, it felt quite melty on my fingertips. The meltiness was about the only negative — the interior was thick with coarse peanut butter, and the walls were thick milk chocolate. After that first awkward bite, I cut off pieces with a knife and ate them with a fork, which worked much better. The box said it was six servings, but I ate about half of it in one sitting. Great with cold milk!
Shop: Buy snacks at Amazon.com
Aroma: Nice strong Reese's smell. Very sweet and peanut buttery.