Pampa Sugar Wafers Chocolate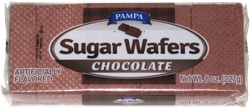 Taste: This brick of wafers had a lot to it — three layers of 9 pieces each, so 27 pieces was plenty to share around. Each one had two creme layers surrounded by three wafer layers, with fairly light colors as chocolate goes.
I bit in to find a fairly dense feel, as the soft creme seemed to occupy a large portion of each piece, with a chocolate flavor that was creamy but also a bit on the fruity side, so a bit unusual. OK, but because of the fruity sweetness, I'd highly recommend having some milk with it. (I had none on hand when I did this review, unless you count chocolate milk, which seemed redundant.)
Shop: Buy snacks at Amazon.com
Aroma: Kind of a toasted chocolate smell. Reminded me of a chocolate Pop-Tart.