Nestle Aero 2 in 1 Bubbly Milk and White Chocolate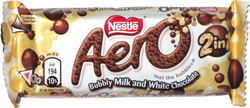 Taste: This version of the Aero bar from Nestle's Polish division featured an all-milk-chocolate exterior arranged in six domed sections, each spanning the full width of the bar. Each section had an illustration of some bubbles, but no Nestle logo. I bit in to find a nice soft Aero feel and an interior that was all white chocolate, just a bit off-white in color, with lots of bubbles throughout. The wrapper was a bit confusing in this regard, because it showed bubbles in the milk chocolate logo, as well as floating bubbles of both types; in reality, all of the bubbles were inside the white. The dominant taste was the white chocolate, but the coating of delicious Nestle milk chocolate added a little something too. Very good!
Shop: Buy snacks at Amazon.com
Aroma: Nice mild chocolate smell, mix of white and milk.