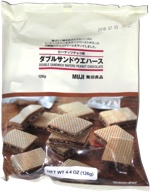 Shop for snacks: Buy snacks at Amazon.com
Taste test: The wafers in this package defied the conventional wafer experience, as Muji cut them into rectangular (and nearly square) shapes and wrapped them individually, rather making them detachable pieces in one huge brick. This particular variety had two filling layers between three wafer layers. And uniquely, the two filling layers were quite different, in both composition and thickness. The thicker one had crushed peanuts embedded inside its dark substance, while the other one was just a dark substance.
I'm not sure whether those dark substances were the same or different. The Ingredients also included Hazelnut Paste, so it's possible that one of them was chocolate and the other hazelnut. Regardless, it had a typical wafer texture and tasted very good, with light feel and a nice mix of peanut, chocolate and more.