Mrs. Freshley's Buddy Bars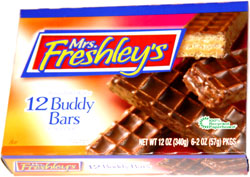 Taste: This package contained six individually wrapped twin-packs of wafers, each with two layers of peanut butter between three wafer layers, plus a chocolate coating on the entire surface. It's the same basic recipe as a cafeteria staple with a similar name from way back in grade school, Hostess Peanut Butter Wafers, or Nutty Bars from Little Debbie. The nutrition label said that one wafer is one serving, but that's kind of unrealistic for a couple of reasons. First, since two wafers come wrapped together, it's inconvenient to have to re-wrap the second one. Second, they're sufficiently delicious that eating just two isn't realistic either. If you've got the box with you, you're unlikely to eat less than four of these bars. Just great.
Shop: Buy snacks at Amazon.com
Aroma: Good smell, much more peanut butter than chocolate.