Milky Way Unwrapped Bites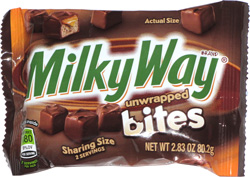 Taste: This bag contained small, roughly cube-shaped versions of the Milk Way bar, indeed unwrapped as the name said, with milk chocolate exteriors just like full Milky Way bars. The most impressive thing was that the pieces didn't stick together at all, which would generally be the #1 fear we'd have about the "unwrapped" concept. The other impressive thing was that, unlike the Snickers Unwrapped version, which didn't quite match the flavor or texture of the original Snickers, these came really close to the experience of a Milky Way. The Milky Way interior, consisting of caramel and chocolate nougat, isn't quite so complicated as Snickers, so they managed to largely duplicate the experience while jamming all that stuff into a small area.
Shop: Buy snacks at Amazon.com
Aroma: Just like a Milky Way bar — mild caramel and milk chocolate. Great.