Meiji Best 3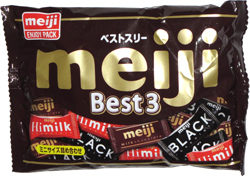 Taste: This bag contained an assortment of three kinds of individually wrapped mini-chocolate bars in a size we haven't found before. Each one was thin and about 3/4-inch by 1-1/2 inches, consisting of two separable square sections. The three flavors were Himilk Chocolate (in red wrapper), Milk Chocolate (brown) and Black Chocolate (black). The size of each was really convenient — a largish bite size, quite satisfying, while also easily transformable into two smaller bite sizes if that's what you prefer. The Dark one was quite good, with a definite dark chocolate taste while still being quite sweet and a bit creamy. The big question was what the difference would be between the two milk chocolate ones. Milk Chocolate did indeed taste like milk chocolate, but it was not that creamy and had almost a hint of hazelnut. (We did not find hazelnut in the ingredients, but Shea Nuts Oil was listed.) That one was good, but as a milk chocolate fan, I liked the Himilk Chocolate even better — it had creamier milk chocolate and was very smooth, without the nutty hint. Overall, this was a great assortment in a convenient form. Really nice, hard to resist eating one after another after another.
Shop: Buy snacks at Amazon.com
From the package
"Enjoy Pack" ... "Product of Japan"