Manner Chocolate Cream Filed Wafers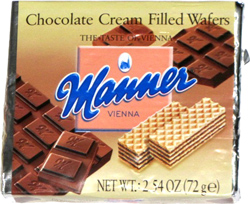 Taste: This wafer bar was nearly square-shaped overall, and it was cut into 10 easily separable pieces, with two rows of five. It was also fairly thick, at five-eights of an inch. It needed to be that thick to accommodate nine separate layers — five wafer layers enclosing four chocolate creme layers. I poured myself a glass of cold milk and grabbed my first piece. It had a nice soft crunch and lots of intense chocolate taste. Despite there being 10 pieces, I was able to eat it all in one quick sitting by alternating pieces (each small enough to fit the whole thing into the mouth) with sips of milk. Very good!
Shop: Buy snacks at Amazon.com
Aroma: Nice chocolate smell.