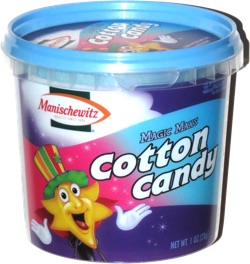 Shop for snacks: Buy snacks at Amazon.com
Taste test: I bought two of these cotton candy tubs, one of which contained blue cotton candy, and the other, pink. The picture is of the blue one, which I brought to a seder as a gift, but I'm reviewing the pink one, which I forgot to take a picture of before discarding it.
It looked like your usual cotton candy. I grabbed a pinch of it and it felt fairly dense, much denser than freshly spun cotton candy, but that's typical of packaged cotton candy. I bit in to find the regular cotton candy feel, but it tasted like cherry, not like pink cotton candy, so I didn't like the taste much. Because I don't like cherries.