Lotte Crunky Crunch Chocolate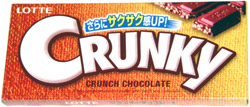 Taste: This cardboard box contained a foil wrapper that housed a large chocolate bar with a 6x4 grid of sections. For such a large bar, it felt very light. Upon opening the foil, I found that the indentations between the sections were not very deep, and as a result, it was not easy to cleanly break off sections. The top surface of the bar was all chocolate, and the bottom looked sort of like a Nestle Crunch bar. The interior of the chocolate seemed to be filled with tiny malt puffs, which gave the bar a very mild crunch upon biting in. The taste was pretty good, a sweet, malty chocolate taste.
Shop: Buy snacks at Amazon.com
Aroma: Very mild.