Little Debbie Marshmallow Pie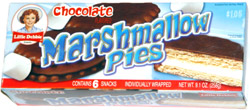 Taste: This box contained 6 individually wrapped round snack cakes. Each pie was about 3 inches in diameter, with a marshmallow layer in the middle, surrounded by two shortbread-like layers, and the whole pie was coated with milk chocolate. The taste was good, and the texture was a mix of crumbly (the shortbread), spongy (the marhsmallow) and melty (the chocolate). The taste was pretty good — not gourmet or anything, but perfectly acceptable and far better than the comparable Moon Pies, though not quite as good as Little Debbie's S'mores.
Shop: Buy snacks at Amazon.com
Aroma: Mild chocolatey smell.