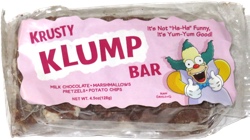 Shop for snacks: Buy potato chips at Amazon.com
Taste test: This large, thick bar had a lumpy appearance with a mostly milk chocolate exterior, but there were parts of marshmallows and pretzels exposed on the edges, where it appears the bar had been cut from a larger whole. From the top of the bar, it was easy to see the rippled potato chips through the chocolate coating, but that was just one of many things jutting out. "Klump" was a well chosen word to describe the general appearance.
The bar measured about 2-1/2 by 5 inches, and it was about 1-1/2 inches thick at its thickest point. I put the whole bar on a plate and cut off a large piece, to be consumed along with some cold milk. It was soft and spongy from the marshmallows, and the pretzels added some crunch, but the chocolate and marshmallows dominated in terms of taste. I couldn't really taste or otherwise notice the potato chips while eating my Klump Bar. It was kind of messy to cut apart or bite into. Not a standout for the taste or texture, but still pretty good, a solid effort among the generally inferior products endorsed by Herschel Krustofsky.