Kit Kat Flavor of California Strawberry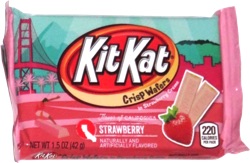 Taste: This state-themed version of Kit Kat (released alongside a Georgia Reese's and Texas Pay Day) came in the usual detachable four-finger Kit Kat configuration, with the Kit Kat logo in the center of each section, but the light pink color gave it a very different look. I broke off my first finger and bit in to find a light wafer crunch and a very sweet strawberry flavor. It did taste a lot like real strawberry (even if the ingredients didn't show it containing any) but it was sweeter than I had hoped. I'd recommend a glass of cold milk to help balance that out.
Shop: Buy snacks at Amazon.com
Aroma: Very nice sweet strawberry smell. Like fresh strawberries and cream.