Jiashili Biscuits Chocolate Wafer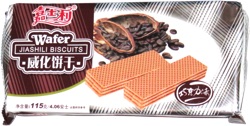 Taste: This large package of wafers had the same unusual arrangement of wafers that we detailed in the review of its strawberry counterpart, as there were only 12 of them, though they were large. They were indeed filled with chocolate, but somehow I misinterpreted the package, so right up until opening it, I expected a coffee flavor — I thought that those were coffee beans pictured on front! Strangely, the taste was actually like a combination of coconut and chocolate, despite the absence of coconut in the ingredients. Good, though.
Shop: Buy snacks at Amazon.com
Aroma: Mild chocolate smell.