Jelly Belly Kids Mix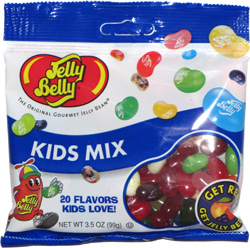 Taste: This colorful mixture of Jelly Belly beans had quite a few different flavors. Green Apple was very good. Toasted Marshmallow was spot-on, quite delicious. Watermelon was really good too, it perfectly captured the flavor. Not sure what Berry Blue was supposed to taste like, but it didn't taste like blueberry, though it did taste OK. The darker blue ones that I think were supposed to be Blueberry didn't taste like blueberry either. Orange Sherbet was really good. Buttered Popcorn was really buttery and really did taste like popcorn. Green Apple and Sour Apple looked the same from the outside, but I cold definitely taste the difference (though the sour ones were not over-the-top sour). There were a whole bunch of red kinds, but the Strawberry Jam ones had some dark spots to help identify them, and the match to actual strawberry jam was perfect, just great. The pink Bubble Gum pieces didn't taste much like bubble gum to me, but they were OK. The Sunkist Lemon pieces were on the sweet side for lemon, but they tasted good, kind of like lemon Starbursts. I don't like cherries, but I've come to enjoy some cherry-flavored snacks, yet I found the Very Cherry ones to be pretty bad. The Chocolate Pudding ones were oddly colored (they looked very dark purple, not brown, so it just didn't say "chocolate" to me) but I could remotely taste the chocolate pudding when I ate them. The ones corresponding to the Tutti-Frutti coloration tasted like bubble gum to me.
Shop: Buy snacks at Amazon.com
Aroma: Very fruity and sweet. Good!