Hello Kitty Chocolate Chip Cookie Dough Treats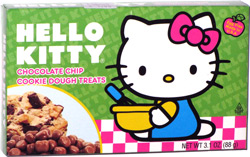 Taste: This box contained a clear bag filled with small, irregularly shaped pieces with smooth milk chocolate surfaces. I grabbed a handful of pieces and bit in to find a nice soft feel and good chocolate taste. The taste was more like chocolate chip cookies than raw dough, though the feel did have the softness of dough. I liked the taste, and these went well with some cold milk. Other than the branding on the box, there didn't seem to be anything Hello Kitty about these.
Shop: Buy snacks at Amazon.com
Aroma: Good chocolate smell.
From the package
"Allergy Information: Product is packaged in a facility that also packages products containing peanuts and other nuts, milk solids, eggs, wheat and soy protein."
Share your comments on this snack here. For general snack discussion, please visit our Chip Talk forum