Hello Kitty Chocolate Chip Cookie Dough Treats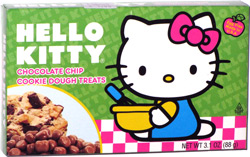 Taste: This box contained a clear bag filled with small, irregularly shaped pieces with smooth milk chocolate surfaces. I grabbed a handful of pieces and bit in to find a nice soft feel and good chocolate taste. The taste was more like chocolate chip cookies than raw dough, though the feel did have the softness of dough. I liked the taste, and these went well with some cold milk. Other than the branding on the box, there didn't seem to be anything Hello Kitty about these.
Shop: Buy snacks at Amazon.com
Aroma: Good chocolate smell.