Hello Kitty Chocolate Brownie Treats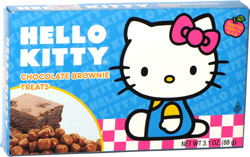 Taste: These snacks looked kind of like Raisinettes, with roundish but irregular shapes with some indentations and a milk chocolate color. Some of the pieces seemed to have stuck together into doubles. When a snack claims to be like brownies, that's a high standard, as that has me expecting the right soft-yet-crusty texture that not even many brownies can achieve. I poured myself a glass a milk and poured a bunch of the brownie pieces onto a plate, then popped a few into my mouth to find that they were soft and tasted pretty good, with lots of chooclate taste, but really not all that different than the taste of Hello Kitty's cookie dough version. The taste was remotely brownie-like, though the texture was not. They were on the edge of being too sweet, so I would definitely recommend having them with milk.
Shop: Buy snacks at Amazon.com
Aroma: Strong, very sweet chocolate smell. Also reminds me of Raisinettes.
From the package
"Hello Kitty® by Sanrio® © 1976, 2012 Sanrio Co., Ltd. Used Under License"
Share your comments on this snack here. For general snack discussion, please visit our Chip Talk forum