The Original Dutch Stroopwafels Original Caramel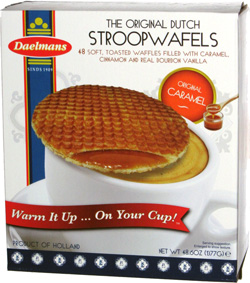 Taste: These snacks were a lot like the Caramel Bites also made by Daelmans, except that each one was bigger and there were many more of them in the huge box. In fact, since this was a Costco package, the box contained six bags, with eight sandwiches per bag. That's a lot of waffles!
Each one consisted of two very thin waffles surrounding a caramel filling. The outside was crisp but soft enough to easily bite into, and the filling made everything nicely chewy. The back of the box recommended warming up each piece by holding it over a cup of coffee, but even without doing anything like that (who has time?), they were pretty spectacular. The caramel tasted great, with a nice hint of cinnamon. Excellent stuff, hard to resist eating one after another after another!
Shop: Buy snacks at Amazon.com
Aroma: Nice caramel smell!