Choceur Hazelnut Chocolate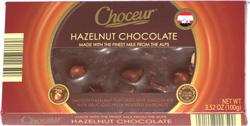 Shop for snacks: Buy snacks at Amazon.com
Taste: This large candy bar had a 4x7 section grid, with a fleur-de-lis (also known as the New Orleans Saints logo) atop each section. The chocolate on top had the ghostly edges of hazelnuts sort of peeking through the flat surface, which looked very cool. The bottom of the bar had large chunks of hazelnut jutting out, though they were covered in chocolate. I broke off four sections and crunched in to find a mild milk chocolate flavor and lots of whole hazelnuts, an average of one per section. The hazelnuts added a good crunch to things. Pretty good.
Shop: Buy snacks at Amazon.com
Aroma: Good mild chocolate and hazelnut smell.
From the package
"Made with the finest milk from the Alps" ... "Made in Austria" ... "Ingredients: Milk Chocolate (Sugar, Milk, Cocoa Butter, Cocoa Liquor, Hazelnut Paste, Soy Lecithin Emulsifier, Vanilla Extract), Hazelnuts."
Share your comments on this snack here. For general snack discussion, please visit our Chip Talk forum