Brach's Peanut Clusters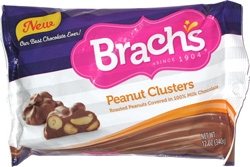 Taste: These clusters of peanuts and chocolate were oddly shaped, with a wide variety of sizes, as clusters ranged from a single peanut to about a dozen. The lumpy appearance of the clusters did not seem very appealing — they didn't look nearly as nice as the ones pictured on the bag. When I ate them, the look didn't matter much, as the abundance of peanuts and chocolate made these taste quite good, and it was hard to resist eating many clusters in rapid succession.
Shop: Buy snacks at Amazon.com
Aroma: Good chocolate and roasted peanuts smell. Maybe more chocolate than peanuts.
From the package
"Our Best Chocolate Ever!" ... "Roasted Peanut Covered in 100% Milk Chocolate" ... "Since 1904, Brach's has been trusted to sweeten life's moments — from festive get-togethers with family and friends to mid-afternoon treats, and everything in between."
Share your comments on this snack here. For general snack discussion, please visit our Chip Talk forum