Bartons Mint Cream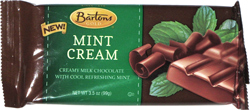 Taste: This fairly thin chocolate bar had a 4x6 section grid, with the Barton's logo atop each section. I broke off the first four sections, without very clean breaks, and that mattered a bit because it turned out that "mint cream" meant that there was a semi-liquidy filling in each section. The filling had sort of an off-white color. With the pockets compromised, there was a potential for some messiness, and we did have a bit of that in the course of eating the bar. Milk chocolate and mint is one of my favorite combinations, but this particular mint and chocolate was pretty average and didn't do much for me. Nothing special here.
Shop: Buy snacks at Amazon.com
Aroma: Minty chocolate mint smell. Pretty good.