Baker's Treat Peanut Butter Wafers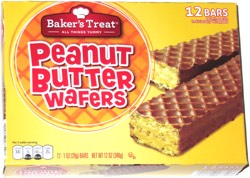 Taste: These bars followed the standard formula of PB-and-chocolate wafer bars, in this case following the common practice of packaging two bars into each wrapper, with six of the twin-packs in the box. As with all of the other brands of similar products, the result was predictable — which is to say quite good. The light crunch, light feel and great combination of peanut butter and chocolate always seem to work well, no matter which brand you get.
Shop: Buy snacks at Amazon.com
Aroma: Great peanut butter and chocolate smell.