Home >
Subscribe >
• Subscriptions
Buy Snacks >
• Buy Snacks
• Buy Taquitos.net Stuff
Chipworld >
• Latest Reviews
• By Category
• By Country
• By Company
• Most Popular
• Snack Stats
• Best Ever
• Worst Ever
• Keith's Top 10
• Specialty Top 10
• Melissa's Top 5
• Factory Tour
• Chips FAQ
• Pringles
• Inventors
• Random Snacks
• Double Dipping
• Snacking Bird
• Chip Talk
Snacking Video >
• YouTube Channel
News >
• Crunch News Network
Gallery >
• Snack Trucks
• Fun With Snacks
• Snack Mascots
• London
• Chocolate Milk
• Boxes
• Southwest Tour
• Road Trip
• The Big E
Yum >
• Chick-fil-A
• McNuggets
• Broasted Chicken
• Grilled Cheese
• Trader Joe's
• Krispy Kreme
• Benihana
• Snacking with Simpsons
• Taquitos
• Fries
• What We're Eating
• Maine Potatoes
• The Big E Massachusetts
• Fluff
• Our favorite food sites
About Us >
• FAQ
• Site Map
• In the News
• How This Got Started
• Contributors
• Jobs
What We're Eating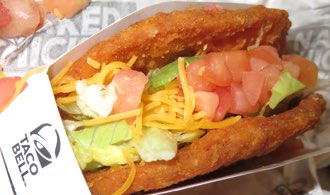 The tortilla shell has gone away! This new item from Taco Bell is enclosed entirely within fried chicken.
Happy Thanksgiving, and here's hoping for many more turkey chips to come!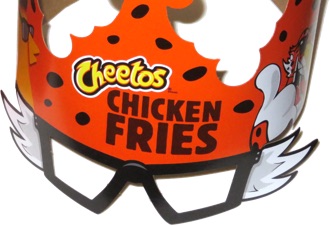 I think it's a good thing that they keep finding new ways to give various Cheetos products an ever-increasing share of people's diets.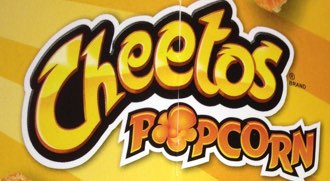 Whoever though of mixing together Cheetos and cheese popcorn and selling it at the ballpark is a genius!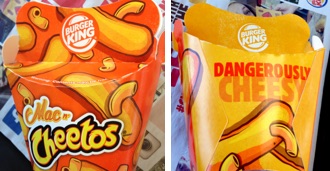 Fast food's latest gimmick is a Cheetos-shaped, supposedly Cheetos-flavored, deep-fried mac & cheese.
News from Crunch News Network
Woman sues Jelly Belly, claiming she didn't know the beans contain sugar
Botulism outbreak linked to nacho cheese sauce from gas station
Apple patents a redesigned pizza box that stops crusts from getting soggy
Nestle fails to trademark four-fingered KitKat shape
Avocado popularity spawns rise in hand injuries
McDonald's introduces utensil made of French fries
Frito-Lay's volume sputters in troubling sign for PepsiCo

Homer is our culinary hero! So we've compiled quotes from the Simpsons about snacks, breakfast, lunch, eating out, drinking and more.
Today's reviews
Top 10 snack categories
Snacking the world
Most reviewed companies
Recent reviews
Farmer Billy's Choco-Bacon-Bar
Oreo Thins Salted Caramel Crème
Snyder's of Hanover Pretzel Lovers Snack Mix Hot Buffalo Wing
Tyrrells Hand Cooked English Chips Mature Cheddar & Chives
Doritos Heat Wave Chipotle Cream
Tyrrells Hand Cooked English Chips Sweet Chili & Red Pepper
Jackson's Honest Purple Heirloom Potato Chips
The Snack Artist Classic Potato Chips
Kit Kat Flavor of California Strawberry
The Green Elephant Perfectly Salted Potato Chips
Lay's Kettle Cooked Olive Oil & Herbs Lightly Salted
Rice Krispies Treats Fun Sheet
Keebler Fudge Stripes Lemon Cream Pie
Krówki Milanowskie Krówka Kakaowa