What We're Eating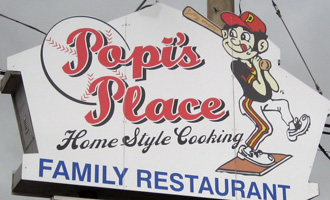 With baseball's Opening Day upon us, I compiled some of my favorite food moments from visits to Spring Training over the past five years.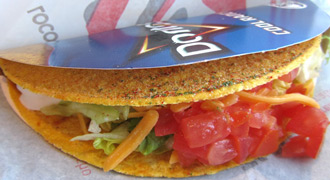 After a frustrating but tasty experience with the Nacho Cheese flavor of Locos Tacos, I returned to Taco Bell to try the highly anticipated Cool Ranch version.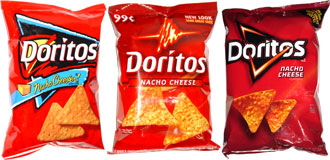 Frito-Lay has given their Doritos bags a new design for the first time since 2006.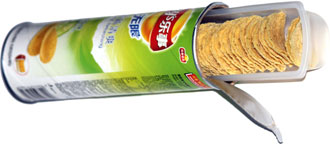 They've invented another way to let you eat as many canned crisps as you want while avoiding the risk of getting your hand stuck in the can.
When I saw a sign promoting milkshakes at a store that didn't have an ice cream counter, I discovered Cold Cow's one-step milkshake system.
News from Crunch News Network
College high jumper/sprinter eats jalapeno potato chips
full story from Orange County Register
6,297 Chinese restaurants and hungry for more
full story from Los Angeles Times
Taco Bell fans search for Cool Ranch Doritos Locos
full story from San Jose Mercury News
The Bogus Case Against Junk Food: Anti-food nannies launch their latest attack
full story from Reason magazine
Lay's to roll out Sriracha, Chicken & Waffles and Garlic Cheesy Bread flavors
full story from Los Angeles Times
Taco Bell Doritos flavor coming soon
Charles Chips announces 70th anniversary re-launch

Homer is our culinary hero! So we've compiled quotes from the Simpsons about snacks, breakfast, lunch, eating out, drinking and more.