Home >
Subscribe >
• Subscriptions
Buy Snacks >
• Buy Snacks
• Buy Taquitos.net Stuff
Chipworld >
• Latest Reviews
• By Category
• By Country
• By Company
• Most Popular
• Snack Stats
• Best Ever
• Worst Ever
• Keith's Top 10
• Specialty Top 10
• Melissa's Top 5
• Factory Tour
• Chips FAQ
• Pringles
• Inventors
• Random Snacks
• Double Dipping
• Snacking Bird
• Chip Talk
Snacking Video >
• YouTube Channel
News >
• Crunch News Network
Gallery >
• Snack Trucks
• Fun With Snacks
• Snack Mascots
• London
• Chocolate Milk
• Boxes
• Southwest Tour
• Road Trip
• The Big E
Yum >
• Chick-fil-A
• McNuggets
• Broasted Chicken
• Grilled Cheese
• Trader Joe's
• Krispy Kreme
• Benihana
• Snacking with Simpsons
• Taquitos
• Fries
• What We're Eating
• Maine Potatoes
• The Big E Massachusetts
• Fluff
• Our favorite food sites
About Us >
• FAQ
• Site Map
• In the News
• How This Got Started
• Contributors
• Jobs
What We're Eating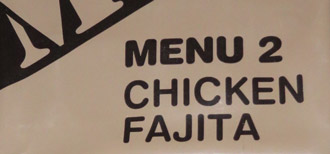 The Meal, Ready-to-Eat has revolutionized military eating. How does one actually prepare them, and how do they taste?
English author Danny Boy Bent strikes back to defend Pickled Onion Monster Munch after Taquitos.net listed it among the Worst Chips Ever.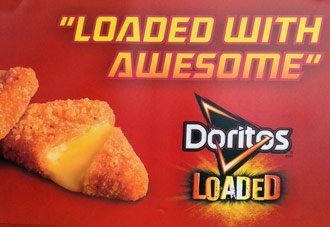 Doritos have taken yet another new form. They are selling Doritos-flavored, Doritos-shaped fried cheese at the world's largest convenience store chain. So we ate some.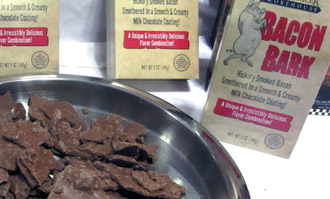 The annual Summer Fancy Food Show in New York was a great showcase for lots of savory and salty indulgences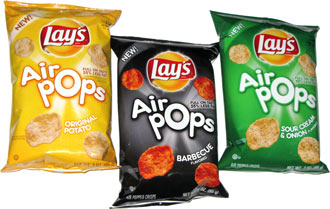 Frito-Lay has joined the parade of companies selling snacks that seem to very closely resemble the increasingly popular Popchips.
News from Crunch News Network
Carl's Jr., Hardee's add hot dog, chips to burger
full story from Associated Press
Man robs phone store while eating Lay's salt and vinegar, Funyuns
full story from Gwinnett Daily Post
More scientists doubt salt is as bad for you as the government says
full story from The Washington Post
Will Ferrell isn't Little Debbie's new spokesman
Man arrested after cocaine found in bag of potato chips
Charges dropped against man cited for eating cheeseburger while driving
Warren Buffett eats Utz Potato Stix and drinks lots of Coke

Homer is our culinary hero! So we've compiled quotes from the Simpsons about snacks, breakfast, lunch, eating out, drinking and more.
Today's reviews
Jolly Time Sea Salted All Natural White Pop Corn
Top 10 snack categories
Snacking the world
Most reviewed companies
Recent reviews
Chewy Chips Ahoy! Brownie Filled King Size!
7 Select Memphis Style BBQ Potato Chips
7 Select Texas Style BBQ Potato Chips
7 Select Carolina Style BBQ Potato Chips
Yamayoshi Wasabee Potato Chips
Bob's Red Hots Cinnamon Sticks
Pringles Food Truck Flavors Kickin' Chicken Taco
Lucky Charms XL Treat Bar Marshmallow
Combos Sweet & Salty Caramel Crème Pretzel
Pop-Tarts Frosted Cinnamon Roll
Tastykake Strawberry Kandy Kakes
South Beach Diet Snack Bars Chocolate Caramel Nut
Baked in Brooklyn Sticks Roasted Chile Pepper with Sesame Seeds
Gary Poppins Caramel + Cheddar + Kettle Artisan Popcorn
Cape Cod Tortilla Dipping Shells Four Bean Black, Pinto, Red & Adzuki Beans
Cape Cod Salted Caramel Popcorn
Royal Grand Luxury Cream Wafer Rolls Strawberry
Tsakiris MIΣA Half & Half Oregano
Garden Cream Wafers Coconut Flavour
Jolly Time Kinda Sweet ... Kinda Salty Pop Corn
The Better Chip Chipotle Corn Chips
Utz Baked Cheddar Cheese Rings
Jolly Time White Cheddar Delicious White Pop Corn
Hawaiian Punch Fruit Juicy Red Candy Twists
Bugles Original Flavor 50 Years!