Home >
Subscribe >
• Subscriptions
Buy Snacks >
• Buy Snacks
• Buy Taquitos.net Stuff
Chipworld >
• Latest Reviews
• By Category
• By Country
• By Company
• Most Popular
• Snack Stats
• Best Ever
• Worst Ever
• Keith's Top 10
• Specialty Top 10
• Melissa's Top 5
• Factory Tour
• Chips FAQ
• Pringles
• Inventors
• Random Snacks
• Double Dipping
• Snacking Bird
• Chip Talk
Snacking Video >
• YouTube Channel
News >
• Crunch News Network
Gallery >
• Snack Trucks
• Fun With Snacks
• Snack Mascots
• London
• Chocolate Milk
• Boxes
• Southwest Tour
• Road Trip
• The Big E
Yum >
• Chick-fil-A
• McNuggets
• Broasted Chicken
• Grilled Cheese
• Trader Joe's
• Krispy Kreme
• Benihana
• Snacking with Simpsons
• Taquitos
• Fries
• What We're Eating
• Maine Potatoes
• The Big E Massachusetts
• Fluff
• Our favorite food sites
About Us >
• FAQ
• Site Map
• In the News
• How This Got Started
• Contributors
• Jobs
What We're Eating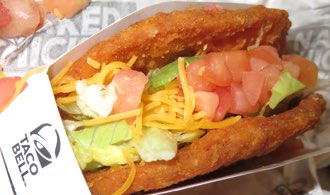 The tortilla shell has gone away! This new item from Taco Bell is enclosed entirely within fried chicken.
Happy Thanksgiving, and here's hoping for many more turkey chips to come!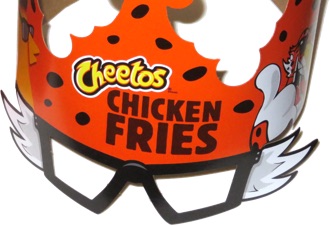 I think it's a good thing that they keep finding new ways to give various Cheetos products an ever-increasing share of people's diets.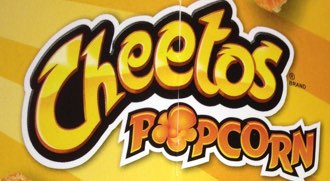 Whoever though of mixing together Cheetos and cheese popcorn and selling it at the ballpark is a genius!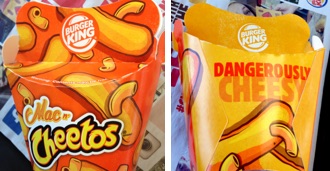 Fast food's latest gimmick is a Cheetos-shaped, supposedly Cheetos-flavored, deep-fried mac & cheese.
News from Crunch News Network
Lay's, Miss Vickie's jalapeno potato chips recalled for possible salmonella contamination
full story from Chicago Tribune
Frozen hash browns recalled because they may contains golf balls
Frito-Lay drops Doritos Super Bowl TV ads
Cheetos arsonist gets jail time for trying to torch ex-girlfriend's house
full story from Taunton Gazette
Man leading police on car chase stops at In-N-Out for food
full story from Los Angeles Times
Thief stops for candy bar after robbing store
Missouri McDonald's will offer all-you-can-eat fries

Homer is our culinary hero! So we've compiled quotes from the Simpsons about snacks, breakfast, lunch, eating out, drinking and more.