Home >
Subscribe >
• Subscriptions
Buy Snacks >
• Buy Snacks
• Buy Taquitos.net Stuff
Chipworld >
• Latest Reviews
• By Category
• By Country
• By Company
• Most Popular
• Snack Stats
• Best Ever
• Worst Ever
• Keith's Top 10
• Specialty Top 10
• Melissa's Top 5
• Factory Tour
• Chips FAQ
• Pringles
• Inventors
• Random Snacks
• Double Dipping
• Chip Talk
Snacking Video >
• YouTube Channel
News >
• Crunch News Network
Gallery >
• Snack Trucks
• Fun With Snacks
• Snack Mascots
• London
• Chocolate Milk
• Boxes
• Snacking Bird
• Southwest Tour
• Road Trip
• The Big E
Yum >
• Chick-fil-A
• McNuggets
• Broasted Chicken
• Grilled Cheese
• Trader Joe's
• Krispy Kreme
• Benihana
• Snacking with Simpsons
• Taquitos
• Fries
• What We're Eating
• Maine Potatoes
• The Big E Massachusetts
• Fluff
• Our favorite food sites
About Us >
• FAQ
• Site Map
• In the News
• How This Got Started
• Contributors
• Jobs
Random Snack

Clancy's Corn Chips Big Dippers
What We're Eating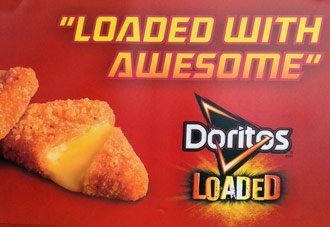 Doritos have taken yet another new form. They are selling Doritos-flavored, Doritos-shaped fried cheese at the world's largest convenience store chain. So we ate some.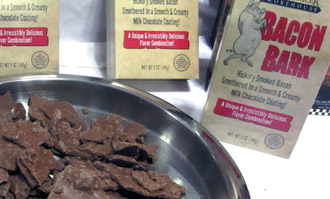 The annual Summer Fancy Food Show in New York was a great showcase for lots of savory and salty indulgences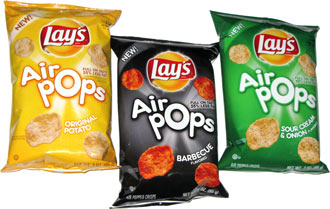 Frito-Lay has joined the parade of companies selling snacks that seem to very closely resemble the increasingly popular Popchips.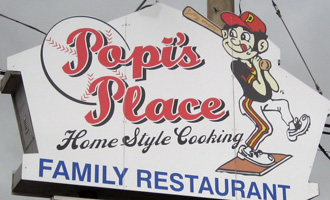 With baseball's Opening Day upon us, I compiled some of my favorite food moments from visits to Spring Training over the past five years.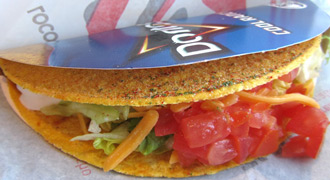 After a frustrating but tasty experience with the Nacho Cheese flavor of Locos Tacos, I returned to Taco Bell to try the highly anticipated Cool Ranch version.
News from Crunch News Network
Baseball fan hit by hot dog gets new trial
full story from Associated Press
Man tries to steal 34 pounds of shrimp from supermarket
What's healthy in the snack aisle?
full story from Marin Independent Journal
Armed potato chip thieves arrested
Guy makes bare-hand grab on foul ball that ruined someone's nachos
Frito-Lay driver made deliveries, stole from stores
Vending machine set up to tweet who bought snacks

Homer is our culinary hero! So we've compiled quotes from the Simpsons about snacks, breakfast, lunch, eating out, drinking and more.
Today's reviews
Nonni's Biscotti Bites Double Chocolate Salted Caramel
Top 10 snack categories
Most reviewed companies
Recent reviews
Flips Chrupki Kukurydziane o Smaku Czekolady
Skinnygirl Kettle Corn Popcorn
Lay's Cheddar Bacon Mac & Cheese
Lay's Kettle Cooked Wasabi Ginger
Vladhleb Golden Rings with Poppy Seeds
Franzeluta Crisp Bread Rings Chelnochok
Gourmet Delite Puffy Crisp Cookies
KLN Honey BBQ Buffalo Wing Flavored Corn Snack
Select Alliance Market Basket Herr's Spicy Queso Red Bean Popped Chips
Chewy Chips Ahoy! Oreo Crème Filled
MET-Rx Big100 Minis Peanut Butter Caramel Crunch
Skinnygirl Sweet Thai Chili with Flax Blue Corn Tortilla Chips
Nestle Aero 2 in 1 Bubbly Milk and White Chocolate
Kägi Dark Premium Swiss Chocolate Wafer
Double Dutch Thick Ripple Appetizers Buffalo Wing and Blue Cheese
Chia Crisps Jalapeño White Cheddar
Cadina Happy is Yummy Potato Chips!
Farmer's Crate Pineapple Thins
Skinnygirl Olive Oil & Pink Himalayan Salt Popcorn
Chia Pop Sea Salt & Cracked Pepper
Snyder's of Hanover Gluten Free Pretzel Sticks Hot Buffalo Wing
Serious Food ... Sillly Prices Jalapeno Cheddar Kettle Potato Chips
Bauducco Selects Wafer Cookies & Cream Double Filled
Asturi FocacciBites Tomato & Oregano
Skinnygirl Sea Salt & Cracked Flax Blue Corn Tortilla Chips
Chester's Poppers Cheese Pizza Waffle Rounds
Cocoaland Rotong Potato Stick with Chili Sauce
Reese's Peanut Butter Cup Oreo
Chester's Poppers Cheddar Crunch Fries
Super 4 White Bean, Quinoa, Lentil, Chia Kale & Roasted Garlic
Skinnygirl Cucumber Dill Baked Pretzel Thins