Home >
Subscribe >
• Subscriptions
Buy Snacks >
• Buy Snacks
• Buy Taquitos.net Stuff
Chipworld >
• Latest Reviews
• By Category
• By Country
• By Company
• Most Popular
• Snack Stats
• Best Ever
• Worst Ever
• Keith's Top 10
• Specialty Top 10
• Melissa's Top 5
• Factory Tour
• Chips FAQ
• Pringles
• Inventors
• Random Snacks
• Double Dipping
• Chip Talk
Snacking Video >
• YouTube Channel
News >
• Crunch News Network
Gallery >
• Snack Trucks
• Fun With Snacks
• Snack Mascots
• London
• Chocolate Milk
• Boxes
• Snacking Bird
• Southwest Tour
• Road Trip
• The Big E
Yum >
• Chick-fil-A
• McNuggets
• Broasted Chicken
• Grilled Cheese
• Trader Joe's
• Krispy Kreme
• Benihana
• Snacking with Simpsons
• Taquitos
• Fries
• What We're Eating
• Maine Potatoes
• The Big E Massachusetts
• Fluff
• Our favorite food sites
About Us >
• FAQ
• Site Map
• In the News
• How This Got Started
• Contributors
• Jobs
Random Snack

Lay's KC Masterpiece Hot 'n Spicy BBQ Potato Chips
What We're Eating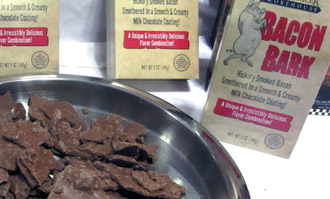 The annual Summer Fancy Food Show in New York was a great showcase for lots of savory and salty indulgences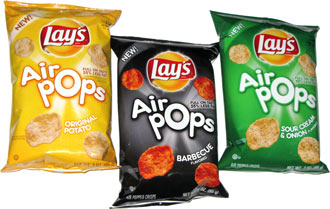 Frito-Lay has joined the parade of companies selling snacks that seem to very closely resemble the increasingly popular Popchips.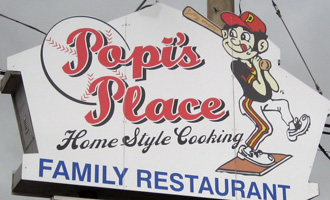 With baseball's Opening Day upon us, I compiled some of my favorite food moments from visits to Spring Training over the past five years.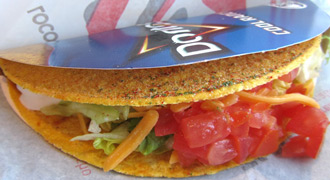 After a frustrating but tasty experience with the Nacho Cheese flavor of Locos Tacos, I returned to Taco Bell to try the highly anticipated Cool Ranch version.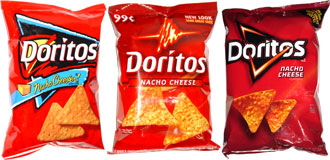 Frito-Lay has given their Doritos bags a new design for the first time since 2006.
News from Crunch News Network
Gibble's chips, snacks could be returning to store shelves
full story from Herald-Mail Media
The Doritofied Future of Chain Restaurants Begins Now
Unsold: Ten million pounds of McDonald's Mighty Wings
full story from The Wall Street Journal
Pringles still working on white chocolate issues
Pringles, Tostitos among the clues left behind at vandalized Boston church
New Jersey may ban snacking and driving
Lay's to roll out chocolate-covered potato chip as Target exclusive

Homer is our culinary hero! So we've compiled quotes from the Simpsons about snacks, breakfast, lunch, eating out, drinking and more.
Today's reviews
Cape Cod Kettle Cooked Potato Chips Limited Batch Back Bay Crab Seasoning
Utz Spicy & Wavy Tabasco Potato Chips
Top 10 snack categories
Most reviewed companies
Recent reviews
Herr's Fire Roasted Sweet Corn Flavored Popcorn
McCoy's Ridge Cut Sizzling King Prawn
Twistos Baked Snack Bites Bruschetta
Charles Chips Waffle Potato Chips
Uncle Bud's Cajun Deep Fried Peanuts
Cracker Jack Popcorn Chocolate & Caramel
Topitos Rounds Nacho Tortilla Chips
Kikiriki Drumstix Chili & Lime
Tayto Milk Chocolate Bar with Cheese & Onion Crisps
Twistos Baked Snack Bites Asiago
Cape Cod Kettle Cooked Potato Chips Limited Batch Asiago Cheese & Italian Herbs
Baxter's Best Pretzel Nuggets Honey Mustard
Butterfinger Peanut Butter Cups
Rold Gold Pretzel Thins Three Cheese
Crème de Pirouline Artisan Rolled Wafers Chocolate Hazelnut
Wagaya Corn Snack Original Flavor
Kettle Potato Chips Maple Bacon
Snyder's of Hanover Korn Krunchers Barbeque
Welch's PB & J Bite Size Snacks Concord Grape
Manner Chocolate Cream Filed Wafers
Fox's Crunch Creams Choc Fudge
Delicje Strawberry European Biscuits
Cape Cod Kettle Cooked Potato Chips Waffle Cut Buffalo Cheddar
Herr's Classic American Hot Dog Potato Chips
Special K Moments Caramel Pretzel Bliss
Snyder's of Hanover Korn Krunchers Nacho Grande
The Better Chip Spinach & Kale with Sea Salt
Sabritas Flamin' Hot Sabor Limón