Home >
Subscribe >
• Subscriptions
Buy Snacks >
• Buy Snacks
• Buy Taquitos.net Stuff
Chipworld >
• Latest Reviews
• By Category
• By Country
• By Company
• Most Popular
• Snack Stats
• Best Ever
• Worst Ever
• Keith's Top 10
• Specialty Top 10
• Melissa's Top 5
• Factory Tour
• Chips FAQ
• Pringles
• Inventors
• Random Snacks
• Double Dipping
• Snacking Bird
• Chip Talk
Snacking Video >
• YouTube Channel
News >
• Crunch News Network
Gallery >
• Snack Trucks
• Fun With Snacks
• Snack Mascots
• London
• Chocolate Milk
• Boxes
• Southwest Tour
• Road Trip
• The Big E
Yum >
• Chick-fil-A
• McNuggets
• Broasted Chicken
• Grilled Cheese
• Trader Joe's
• Krispy Kreme
• Benihana
• Snacking with Simpsons
• Taquitos
• Fries
• What We're Eating
• Maine Potatoes
• The Big E Massachusetts
• Fluff
• Our favorite food sites
About Us >
• FAQ
• Site Map
• In the News
• How This Got Started
• Contributors
• Jobs
What We're Eating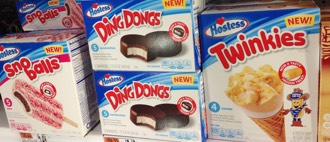 I was surprised and thrilled to spot Ding Dongs and Twinkies in the frozen aisle.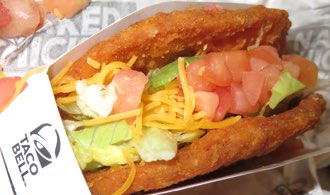 The tortilla shell has gone away! This new item from Taco Bell is enclosed entirely within fried chicken.
Happy Thanksgiving, and here's hoping for many more turkey chips to come!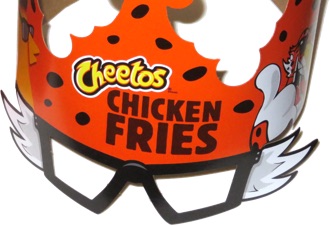 I think it's a good thing that they keep finding new ways to give various Cheetos products an ever-increasing share of people's diets.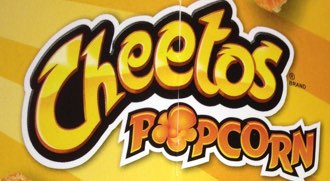 Whoever though of mixing together Cheetos and cheese popcorn and selling it at the ballpark is a genius!
News from Crunch News Network
Chipotle changes queso recipe after negative feedback
Waffle House customer made his own meal while sole employee slept
full story from The Daily Meal
McNugget fight in Indianapolis called 'shocking'
Little Debbie may discontinue one of its snack cakes
Texas official admits to stealing $1.2 million in fajitas
7-Eleven patron busted in nacho cheese attack
full story from The Smoking Gun
Frito-Lay and Snyder's-Lance face off over 'Pretzel Crisps' trademark
full story from Bakery and Snacks

Homer is our culinary hero! So we've compiled quotes from the Simpsons about snacks, breakfast, lunch, eating out, drinking and more.