Home >
Subscribe >
• Subscriptions
Buy Snacks >
• Buy Snacks
• Buy Taquitos.net Stuff
Chipworld >
• Most Popular
• Snack Stats
• Latest Reviews
• All Reviews
• Companies
• Best Ever
• Worst Ever
• Keith's Top 10
• Specialty Top 10
• Melissa's Top 5
• Factory Tour
• Chips FAQ
• Pringles
• Inventors
• Random Snacks
• Double Dipping
• Chip Talk
Snacking Video >
• YouTube Channel
News >
• Crunch News Network
Gallery >
• Snack Trucks
• Fun With Snacks
• Snack Mascots
• London
• Chocolate Milk
• Boxes
• Snacking Bird
• Southwest Tour
• Road Trip
• The Big E
Yum >
• Chick-fil-A
• McNuggets
• Broasted Chicken
• Grilled Cheese
• Trader Joe's
• Krispy Kreme
• Benihana
• Snacking with Simpsons
• Taquitos
• Fries
• What We're Eating
• Maine Potatoes
• The Big E Massachusetts
• Fluff
About Us >
• FAQ
• Site Map
• In the News
• How This Got Started
• Contributors
• Jobs
Random Snack

Crispers Salt & Vinegar
What We're Eating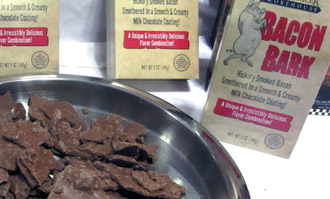 The annual Summer Fancy Food Show in New York was a great showcase for lots of savory and salty indulgences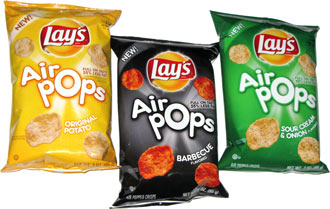 Frito-Lay has joined the parade of companies selling snacks that seem to very closely resemble the increasingly popular Popchips.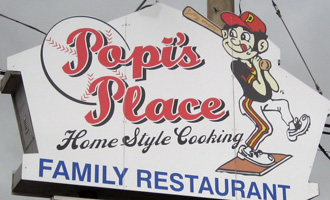 With baseball's Opening Day upon us, I compiled some of my favorite food moments from visits to Spring Training over the past five years.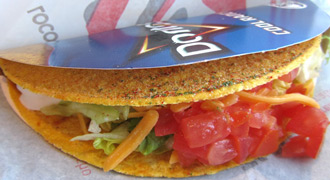 After a frustrating but tasty experience with the Nacho Cheese flavor of Locos Tacos, I returned to Taco Bell to try the highly anticipated Cool Ranch version.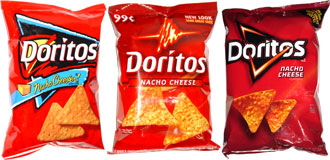 Frito-Lay has given their Doritos bags a new design for the first time since 2006.
News from Crunch News Network
Pringles still working on white chocolate issues
Pringles, Tostitos among the clues left behind at vandalized Boston church
New Jersey may ban snacking and driving
Lay's to roll out chocolate-covered potato chip as Target exclusive
Maple Moose wins Lay's flavor contest in Canada
Woman accused of attacking store clerk with nacho cheese
Prince Fielder takes bite of fan's nachos
full story from Sports Illustrated

Homer is our culinary hero! So we've compiled quotes from the Simpsons about snacks, breakfast, lunch, eating out, drinking and more.